Tom Dryer
blogs about Midori
. Midori is a lightweight GTK web browser which uses the popular WebKit rendering engine.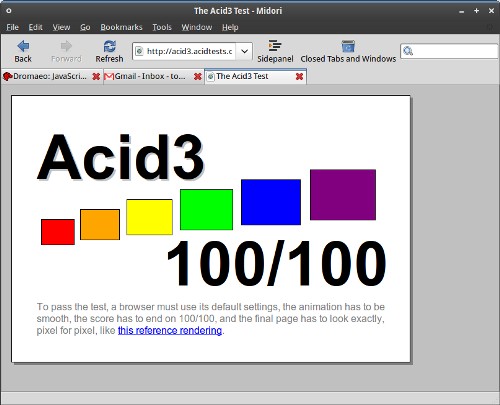 Midori seems to be stable. Because Midori uses a similar WebKit rendering engine to Apple Safari and Google Chrome, it has few problems with website compatibility. I tried a few web applications, and all of them worked fine with the exception of Google Talk in Gmail, which seems to have a layout issue with Midori.
Not only does Midori score a perfect 100/100 the acid 3 test web standards test, it beats Firefox by a significant margin in the SunSpider Javascript benchmark. Midori scored 2.8 times faster than Firefox 3 and 1.7 times faster than Firefox 3.1 Beta 3 on my system:
1914.6ms +/- 6.2% --> Firefox 3.1 Beta 3
3082.8ms +/- 0.2% --> Firefox 3
1111.4ms +/- 1.2% --> Midori 0.1.4
A missing feature that would be nice to have on netbooks is a fullscreen mode which, like Firefox, autohides the toolbar and tabs.
Midori is available from
the WebKit Team PPA
for Ubuntu 9.04, 8.10, and 8.04. Follow the directions on the PPA page to add the repository, and then install Midori from the package
midori (click the link to install)
, or by running the command below in your terminal:
sudo apt-get install midori
Midori isn't as polished or have as many features as Firefox, but it is very fast and standards-compliant. I wouldn't use Midori as my main desktop browser yet, but it is definitely very well suited for use on a netbook.
I'm looking forward to more WebKit-based browsers becoming available and stable on Linux!
Source:
http://tombuntu.com/index.php/2009/03/13/midori-extremely-fast-and-standards-compliant/